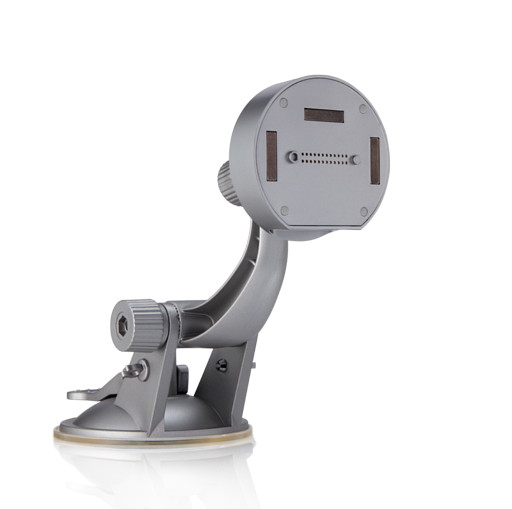 Say goodbye to fumbling with your phone while in your car. With OverDryve on your dashboard, you can communicate and navigate, with just the sound of your voice.
OverDryve is equipped with Rand McNally's award-winning navigation to help you get wherever you need to go – whether it's the grocery store or an epic road trip. Simply speak your destination and you're on your way.
No more worrying about data overages
OverDryve has maps on board, so you won't need to use any data while finding your way. The smart mount has an extra GPS antenna that provides greater accuracy.
Advanced routing features
With split-screen junction view, advanced lane guidance, and multiple map views, you'll be prepared for anything that comes your way. OverDryve even estimates toll costs for longer trips.
Stream music, podcasts, and audiobooks directly from your favorite apps on your phone – and listen to it all through your car's stereo speakers.

Or, download your favorite apps and music onto OverDryve, to play without an internet connection.

Still have a library of MP3 files? Load them onto OverDryve using an SD card or USB and take your music with you.
Points of interest
Find whatever you're looking for along the way. With Exits Info, you can even see what's available at every highway exit.
Live features
Connect to Wi-Fi to access live weather, traffic, and fuel prices along your route
Record your drive for safety or to capture amazing moments from the road. Whether there's a sudden slow down or an incredible view in front of you, OverDrvye's features have your back.
DashCam
OverDryve's built-in DashCam can help provide documentation of an accident as well as a video memento from the road.
Provides Bluetooth® hands-free calling and texting
OverDryve brings luxury car features to any car, maximizing the driver's capabilities and minimizing distractions.
Stream music, podcasts, and audiobooks directly from OverDryve or your phone; or download and play offline from OverDryve.
Integrates with your phone's built-in voice assistant (Siri, Google, etc.)
Make the road your only focus
Commercial-grade navigation
OverDryve OS is compatible with iOS and Android devices, allowing for a fully connected hands-free experience. Customize OverDryve with all your favorite apps, and complete the ecosystem with OverDryve-exclusive accessories:

Tire Pressure Monitoring System - quickly access the temperature and pressure of each individual tire on your car, so you know which tire to fill and when.

Wireless Back-up Camera - reverse your car more safely, seeing what's behind you displayed on your OverDryve device.
The powered magnetic smart mount is a snap! It holds the device firmly in place when required and allows it to detach easily when needed, without removing the cord.
With automotive-inspired styling and chrome details, OverDryve is designed for the vehicle environment, and makes an elegant addition to any dashboard.
Designed with drivers in mind, OverDryve:
Plays sound through your in-car stereo system
Features award-winning on-board navigation & trip planning
Records your trips with the built-in dash cam
Runs "OverDryve™ OS", a customizable platform built on Android 5.1 (Lollipop)
Provides a platform to download apps, games, music, audiobooks & more
With OverDryve's Voice Assistant, you can use voice commands you already know (via Apple's Siri or Google Voice) to read and send text messages, place hands-free calls, and much more.
Put down your phone. Voice Assistant plays back everything over the stereo system in your car.
Stop shouting. Voice Assistant leverages OverDryve's powerful noise cancelling dual-microphone array, specifically designed for use in the car.
All audio from OverDryve can be played through your car stereo using an AUX cable or through your FM Radio. OverDryve also includes a powerful speaker on the smart mount – meaning that you can hear your music and navigation directions through the stereo of any car.
Connect to your car's stereo
When you're out of the car, OverDryve becomes your everyday tablet. Whether you're using it for work or play, make OverDryve your own by downloading the apps you love.
Make any car a connected car